One thing that is really NOT fun with the BJD - is that they totally eat the whole of your brainz and leave to space for other occupations and inspirations. My drawing process has basically stalled, and I can't get myself to any serious CGing. Nor any CGing at all for that matter.
*sigh*
Ce qu'il y a de vraiment PAS fun avec les BJD c'est qu'ils bouffent la totalité du cerveau sans laisser de place à aucune autre activité. Mes dessins sont au point mort et je ne peux absolument pas recommencer à travailler sérieusement. Ou à dessiner tout court.
*soupire*
С БЖД есть одна проблемка - они едят мозк. И не оставляют места для других занятий. Никак не могу заставить себя сесть рисовать что-нибудь серьезное - или вообще что-нибудь.
All I could sketch is the kinda looks I would like for my Sist Bully faceplate - Redox is the Badass side of Blyss. And he's got head-shot XD
Tout ce que j'ai pu croquiner pour l'instant c'est le genre de look que je voudrais pour la faceplate Sist Bully - Redox c'est le côté "bad guy" de Blyss. Et il a reçu une balle en plein front XD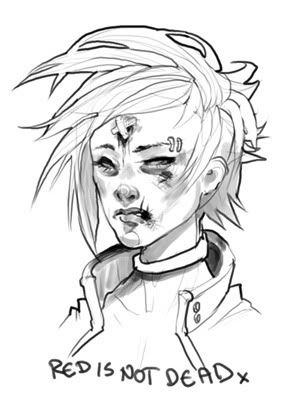 I hope the faceplate will be home soon^^
J'espère que je la receverais bientôt en tout cas *o*