Since I have been asked a couple of times about it, I'll just stick an entry about the matching between a unoa faceplate/headback and a Fairyland minifee body here.
Here we go!
Fairyland white skin resin mathes the 1.0 Unoa resin better.
Fairyland normal skin resin mathes the 1.5 Unoa resin better.
Yet the minifee resin would be pinker and a bit darker.
It's not very noticable on pictures, most of the time, unless you're picky about color.
There's the minifee normal skin hand, a unoa 1.5 faceplate that has been blushed and another one that hasn't.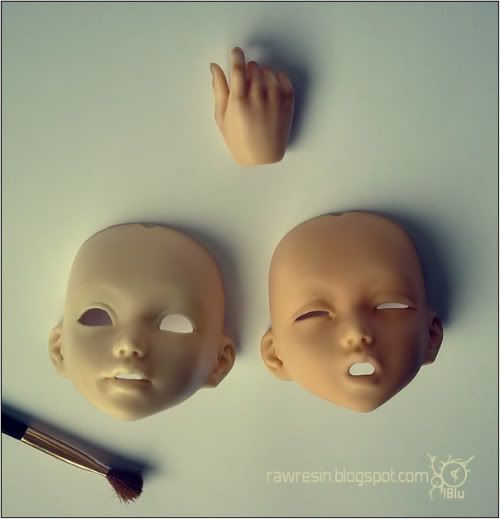 Assembling it all
You would need a headback to stick a unoa faceplate on the top of a minifee body.
You would need to remove the neck part from the minifee active line body if you have one,
and restring it the following way:
The neck size
Minife girl or boy body has a large neck,
it will be a bit too large for the most of unoa or unoa-like headbacks.
I have a hand-made resin headback, and the problem is...

I have tried sanding a bit of the neck and a bit of the headback joint-holder,
after I've taken this pictures, and it helps a little: but it doesn't make it perfect.
You'd need a special minifee-compatible headback if you want a perfect match,
make one and I'll buy it! :D
I've got some silicon joint caps that I haven't yet tried, thay could help as well.
I hope that would be helpful for someone.